EXPO ÉCRITURES NUMÉRIQUES || DISNOVATION∙ORG + CABINET DE CURIOSITÉS NUMÉRIQUES || PARCOURS GÉOLOCATIF || PERFORMANCES HYBRIDES || WORKSHOPS SERIOUS GAMES || CONFÉRENCES PENSER LES CULTURES NUMÉRIQUES || JOURNÉE D'ÉTUDE DISNOVATION & HACKTIVISME || + PRINTEMPS DES SCIENCES @LOUVAIN-LA-NEUVE || + OPEN TOKENOMICS & MUNDANEUM FACTORIES @MONS
Pour sa sixième édition, Transnumériques se déploie sur le territoire de Louvain-la-Neuve ouvert cette année à la créativité des ces mondes numériques en mutation accélérée. Avec cette biennale des cultures numériques, Transcultures et ses partenaires se penchent plus particulièrement sur les nouvelles écritures et formes, hybrides qui sont les fruits de ces rencontres entre les pratiques artistiques prospectives et les technologies contemporaines. Manifestation fédératrice engagée dans la défense des multi singularités, Transnumériques associe la création des ces électrons libres aux volets réflexion critique et transmission.
For its sixth edition, Transnumériques is deploying on the territory of Louvain-la-Neuve opened to the creativity of these digital worlds in accelerated mutation. With this biennale of digital cultures, Transcultures and its partners are particularly interested in the new forms that are the fruit of these encounters between prospective artistic practices and contemporary technologies. As a unifying event committed to the defense of multi-singularities, Transnumériques associates the creation of these free electrons with critical debates and the desire to encourage transmission.
Opening 22.03 | 18:00 : transnumeriques.be/2018
Full program/me complet : transnumeriques.be/2018-program
Participants : art2.network (Be) + Fayçal Baghriche (Dz/Fr) + Emilie Brout & Maxime Marion (Fr) + Alexis Choplain (Be) + Régis Cotentin (Fr) + Heather Dewey-Hagborg (USA) + Frederik De Wilde (Be) + Nicolas Maigret & Maria Roszkowska / DISNOVATION∙ORG (Fr/Pl/Int.) + Domenico Dom Barra (It) + Verena Friedrich (De) + Haydiroket (Tr) + Taylor Holland (USA/Fr) + Thomas Israël (Be) + Li Jinghu (Chn) + JODI (Be/Nl) + Klink (USA) + LAb[au] (Be) + Eva & Franco Mattes (It/USA) + Raquel Meyers (Es) + Esra Özkavci (Tr) + Yuan Qu (Chn) + Clément Renaud (Fr) + John Robert (Be) + Elena Romenkova (Ru) + Evan Roth (USA/Fr) + Jérôme Saint-Clair (Fr) + Sholim (Srb) + Ofer Smilansky (Il/Be) + Franck Soudan (Fr/Be) + Filip Sterckx (Be) + :such: (Fr) + Tachyons+ (USA) + Alex Verhaest (Be) + François Zajéga (Be) + Mathieu Zurstrassen (Be)…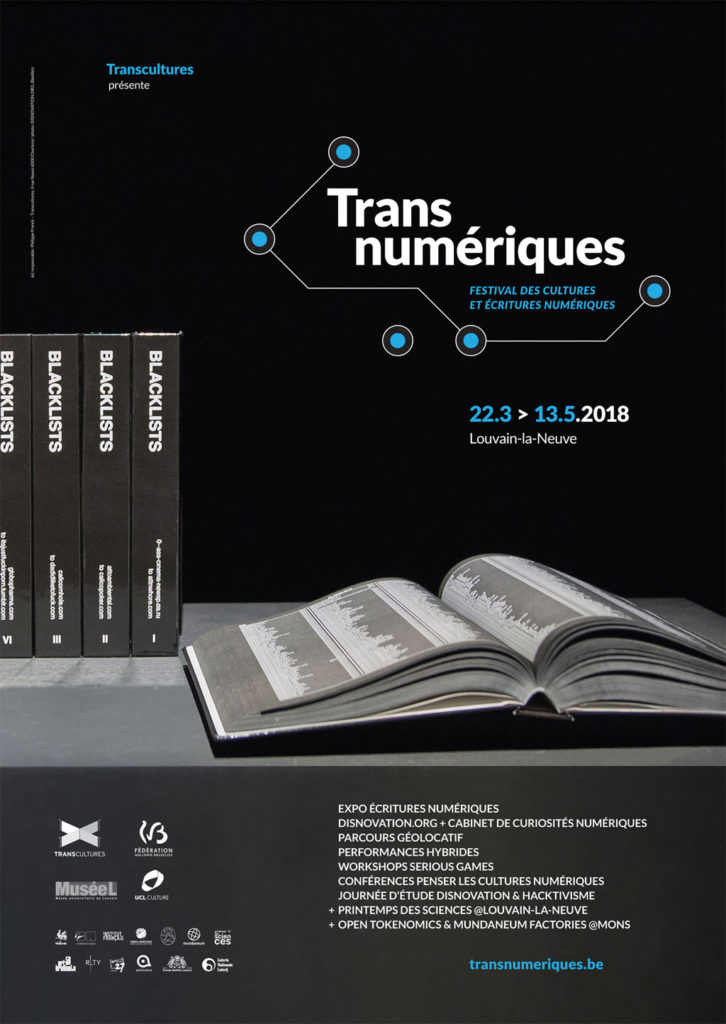 *Transnumériques #6 Ecritures numériques est une conception/production Transcultures | Avec le soutien de la Fédération Wallonie-Bruxelles (arts numériques), UCL Culture, Musée L | En partenariat avec le Printemps des Sciences, Point Culture, Bibliothèque des Sciences, Mundaneum.
*EXPO: Ecritures numériques en coproduction avec l'UCL Culture et le Musée L | Dans le cadre d'EXTRA, avec le soutien de l'Institut français et du Service de coopération et d'action culturelle de l'Ambassade de France en Belgique | Partenaires : Région Wallonne, Fédération Wallonie-Bruxelles, Province du Brabant-Wallon, article 27, Fonds Baillet Latour, Loterie Nationale, RLTY, Mondes Numériques, Art Brussels.
Cette édition des Transnumériques est dédiée à Vincent Paesmans, artiste/concepteur/programmeur qui aurait dû en faire partie et qui a choisi de nous quitter un triste jour de mars 2018.
This edition of Transnumériques is dedicated to Vincent Paesmans, artist/designer/programmer who should have been have been part of it and who chose to leave us on a sad day in March 2018.
>
22.03 > 13.05
>
Musée L - Louvain-La-Neuve - Belgique
>
Link